A Q&A With Team from Park Road
Park Road Post Production is a world-renowned post-production facility based in Wellington, New Zealand. With expertise in DI, sound design, editing and visual effects, Park Road is well known for its work on feature films, short films, television and cinema commercials, broadcast, mastering, restoration and archival work. Developed "by filmmakers for filmmakers," Park Road is famous for work on major Hollywood blockbusters including "The Hobbit: An Unexpected Journey" and "The Hobbit: The Desolation of Smaug," "District 9," "The Lovely Bones," and "The Lord of the Rings Trilogy."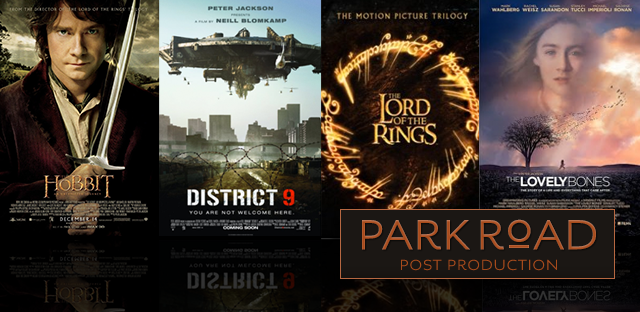 Part of the VFX team at Park Road, Darwin Go (VFX supervisor), Ferand Peek (VFX artist) and Shobita Jones (VFX artist) all use mocha Pro by Imagineer Systems in their visual effects workflows for tracking, rotoscoping, 2D match move and exporting shapes. Ross Shain, chief marketing officer at Imagineer, sat down with the experts at Park Road to talk visual effects.
Imagineer Systems (IS): Can you tell us a bit more about your individual experience in the visual effects and post-production industries?
Darwin Go (DG): I have been in post-production work for close to 10 years. I have been an editor, motion graphics artist, visual effects artist and visual effects supervisor. I've worked through a range of different types of projects ranging from motion graphics, TV visual effects and feature film visual effects.
Ferand Peek (FP): I've been in post-production for about three years. I specialize in compositing and feature film cosmetic work and have also done a fair amount of stereo conversion for cinema advertising. At Park Road, I do a range of visual effects work including compositing.
Shobita Jones (SJ): For the past three years, I have primarily worked on stereoscopic conversions and film restorations. I also do motion graphics and compositing work. The many aspects of post-production fascinate me and I don't specialize particularly on a single job. 
IS: How does mocha Pro fit into the daily workflow at Park Road?
FP: We use mocha Pro in conjunction with both Adobe After Effects and The Foundry's Nuke. Exporting shape data and pasting to both applications is a very nice feature. When our pipeline shifted to Nuke, we weren't worried that things would change too much, and it actually helped smooth things out for the better.
DG: mocha Pro is a software that we have constantly used in our pipeline. It is one of the strongest pieces of software that we have used, particularly for 2D match move. From the early days of exporting tracking data to After Effects all the way to exporting shapes to Nuke, it has been very beneficial for projects, helping us meet our deadlines.
IS: You all have varying tasks within the post-production workflow. How does mocha assist you with your individual needs?
SJ: For my work on stereo conversion projects, the bulk amount of time for rotoscoping is spent in mocha Pro, which could be as short as half a day's work due to the planar tracking capabilities of the software. I find the software to be user friendly while also having the ability to help in many different parts of the compositing process.
FP: I use mocha Pro extensively on our feature film projects. I use it as our primary rotoscoping tool and find that, in conjunction with the tracker, it is a pretty powerful tool. We prefer it for its excellent planar tracker and primarily create most of our roto-shapes in the software. 
IS: Tell us about some of your favorite features in mocha Pro and how they have helped solve particular challenges in your workflow.
DG: mocha Pro's export shapes feature saves us storage requirements for big projects and cuts down rendering time. We simply import the shape data into our compositing software and are still able to further address small issues that are not picked up during the rotoscoping stage. Having mocha in our workflow has also helped our artists focus more on creative aspects of the production. Simplifying it with exporting shapes, the artist doesn't need to wait around for a render and can carry on with completing the shot.
FP: We work on hundreds of shots with each project we do. The planar tracker in mocha is second to none in my experience. Considering the majority of things that we track are quite low in contrast and details, the results are amazing. I can't really say enough about the planar tracker; without it we could have been literally tens to even hundreds of hours slower, taking into account multiple artists working over a period of many months. It's a great tool.
SJ: We also use mocha Pro to remove hair on gate and stains for many old film projects that have been un-archived after a long time. The Remove Module was very helpful and really did cut down a lot of time, which enabled us to do more shots within a day. This also helped improve our work as we can concentrate on more difficult things in the restoration process and take the stress out of the paint work.
IS: In your opinion, what sets Imagineer Systems apart from the competition?
DG: Imagineer is very involved in getting feedback for their future feature releases and they are interested in how productions are using their software. I think this is very good for an industry that constantly changes; being able to listen and understand what artists' preferences are contributes to its improvement.
To learn more about Park Road Post, visit: http://www.parkroadpost.co.nz/