The team behind RVLVR, Nick Bicanic and Ricky Berrin, are shooting an arrow into the heart of 360° content. The thought leaders at the forefront of the frameless media revolution (VR/AR/MR) are tackling narrative-driven fiction in 360° — and doing it well. The bicoastal company with offices in NYC and LA offers strategy/consulting, content production, and custom software solutions for clients like Mountain Dew, Toyota, Huffington Post/RYOT, NBC, and Comcast.
While many of today's 360 video projects focus on journalistic angles like news, sports, or event coverage, Bicanic believes the largely untapped genre of fictional cinematic 360 has limitless potential, especially as more and more 360 content is consumed on mobile devices. Just like we love escaping to the movies or watching TV series, 360 content can provide that same story-driven connection to viewers.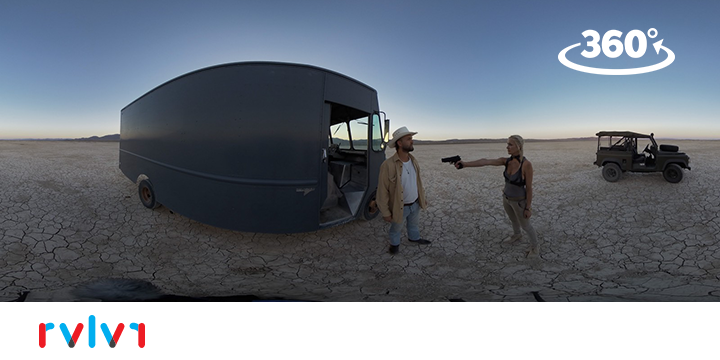 "Our primary focus is in figuring out how storytelling works in this space," says Bicanic, a documentary filmmaker, mobile UX specialist, and serial entrepreneur. "Since UX is disproportionately more important when you move beyond the screen — a deep appreciation of it is vital for understanding how to move the medium forward both for ourselves and our clients." This in itself, the reality of creating compelling 360 narratives, presents new, never-before-seen challenges to 360 filmmakers.
The team recently completed CUPID, a 360 action-packed short. "CUPID was produced in 360 because I wanted to push the limits on what was possible in dynamic camera movement, fast-cut narrative action," states Bicanic. "I've been disappointed with what many people have made in that aspect — and it's my favorite kind of passive entertainment to consume. So I thought I'd bend some rules, teach people a few lessons, and learn something myself along the way." The project was shot with a Z CAM S1 and finished at 4096 x 2048 in just three jam-packed days in Los Angeles. (You can read about the "Making Of CUPID" with its one comical production hiccup involving a drug dealer here.)
CUPID marks RVLVR's first official use of Mocha VR in their 360 post & VFX pipeline which also includes, Adobe Premiere and Mettle for editing, Mistika VR and Wonderstitch for stitching, and Adobe After Effects & Photoshop for additional compositing work. And it immediately came in handy on the very first shot, which presented a major challenge. "Without Mocha VR, the initial Rover removal shot would have been either impossible to do — or extremely painful," states Bicanic. "Mocha's planar tracking and Removal tools are a must-have for moving camera shots in VR. The Remove Module is really the piece de resistance."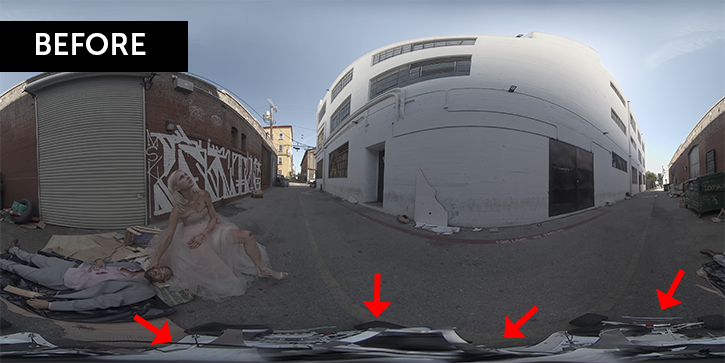 RVLVR also turned to Mocha VR for its Lens Workflow module alongside After Effects paint and the clone brush to help roto paint a car shot.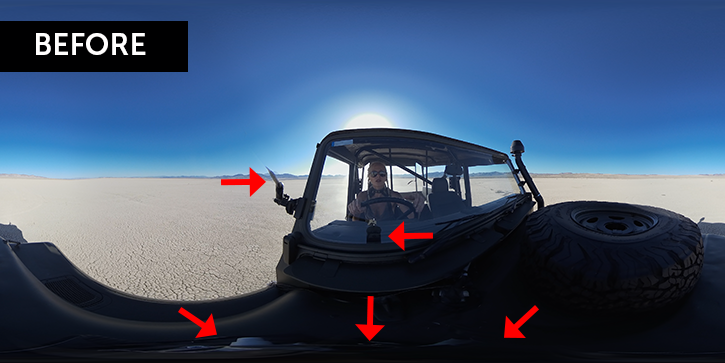 "I recall Mocha as being like magic when I first saw it because while I fully understood what it was doing under the hood (since I understood where the data was from)," remarks Bicanic. "I was in awe of its ability to rotoscope almost automatically in some cases."
As for the future of 360 narrative, RVLVR is currently working on two other scripted 360 video series, and a narrative VR short for a major broadcast TV network.
Download a free trial of Mocha VR.