Oscar-winning VFX Supervisor Rob Legato and Brainstorm Digital use mocha visual effects tools on Martin Scorsese's Wolf of Wall Street
Rob Legato is one of Hollywood's most sought after visual effects supervisors. His impressive career as an effects visionary includes credits on award-winning blockbuster films including Hugo, Avatar, The Departed and many more. Having worked as Martin Scorsese's collaborator on numerous films, Legato is known throughout the industry as a problem solver who uses effects to enhance and drive stories. Most recently, Legato was VFX supervisor and Second Unit Director on the box office success, The Wolf of Wall Street.
Based on the New York Times best-selling autobiography by stockbroker Jordan Belfort, one would not ordinarily assume a drama like The Wolf of Wall Street relied on visual effects work. The film, in fact, contains numerous set extensions, environments and digital sleight of hand to build realistic backgrounds and locations. Luckily, with the help of mocha, the Academy Award-winning planar tracking software from Imagineer Systems, Legato and VFX studio, Brainstorm Digital successfully sell these digital sets and seamless replacements as smoothly as Jordan Belfort himself sold penny stocks to unwitting investors.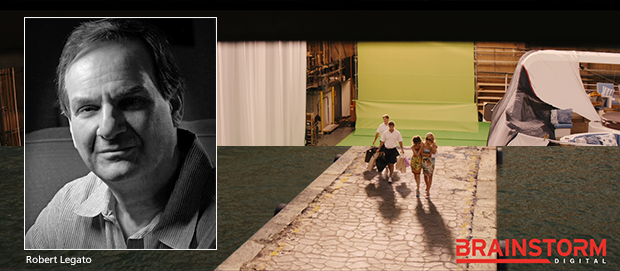 Legato has been using mocha since he first discovered its powerful planar tracking abilities while working on the Scorsese film, Shutter Island. "Sometimes I'll be pretty inventive with what I'm going to do as far as visual effects go," Legato states. "I tend to use mocha because it's easy for me to use and I can get very good results very quickly."
While Legato admits that roto and tracking was once painstaking and time-consuming work typically farmed out to specialists, he now personally uses mocha to test out ideas during the early editorial process. "For the most part I'm usually testing shots to get a good creative idea of what we want to achieve before turning it over and spending money on it," he comments. "That allows me to maximize the amount of money I do have for just the work that's going to be in the picture."
Having worked with Scorsese in the past, Legato knows the director likes to quickly view and experiment with multiple shots; of course, budget is always a consideration. To previsualize shots, he often turns to mocha AE(bundled in Adobe After Effects Creative Cloud), which allows him to easily temp shots on his own without turning it to a facility – which often costs time and money. "Working with somebody like Marty, who is very inventive in the editing room, he needs to see these things pretty quickly, and usually the budget is not very high. Because of that, I use mocha to temp them all myself. If I have to turn it over to a facility, it may not even live. It may just be something that needs to be explored, just to rule it out or to expand on it."
When it came to post production in Wolf of Wall Street, Legato says, like in any movie, post is an ongoing process from the moment production begins to the moment before it's distributed in theaters. Often, creative problem solving is required in unlikely times. In fact, he says while they were in the final digital intermediate color correction process, the VFX team needed to work some post production magic in order to receive an "R" rating from the MPAA. "We had to block some activity that was deemed too inappropriate for an R rating," says Legato. "mochawas used to track a chair in front of the explicit footage – and no one is the wiser."
He continues, "Before mocha, we'd need more time to prep and get the shot. Instead, I could shoot it, and literally in an hour I had the composite already done. It went into the movie, and at the same time went to the MPAA anticipating that it was going to be fine. That's what life is like these days. Visual effects are being done and not used in the old sense where there was a very specific storyboard scene and everybody talked about it – it's a free flowing operation."
Multiple visual effects vendors were involved on Wolf of Wall Street, including the Emmy Award-winning visual effects studio, Brainstorm Digital. Brainstorm used The Foundry's Nuke for compositing and 3D tracking while often relying on mocha Pro which complements Nuke for more complex tracking and roto tasks. "Many times, tracking can prove to be quite challenging. In these cases, we often turn to mocha Pro, which is great at handling some of these trickier tasks," comments Eran Dinur, the senior VFX supervisor at Brainstorm.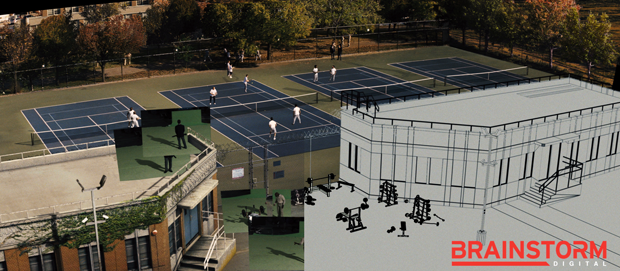 One particular scene where mocha came in handy for Dinur and his VFX team features Leonardo DiCaprio's character enjoying some leisure time at the prison's tennis court. It was decided in post that the shot needed to be retimed. This would however result in the actors moving unnaturally fast. In order to speed up the shot without having to reshoot the entire scene, Brainstorm digitally took the scene completely apart, then replaced and recreated the background while keeping the actors' original timing. "The whole shot was anamorphic," says Dinur. "We had a basic camera track of the entire shot, but we had to use mocha for specific tracking tasks and to stabilize certain areas or players that were added so everything was locked down."
Brainstorm also did additional effects work to set the perfect scene in the Hamptons. Belfort's villa, which is actually situated on Long Island and surrounded by trees, was shot with an octocopter. The same drone was used to shoot extra plates of the Hamptons one sees in the final film. These plates were used as raw materials to create a matte painting to replace the original trees with Hampton-style villas and background scenery. To achieve the final look, Dinur states, "We used mocha to handle a lot of issues that needed more delicate motion tracking."
Of course, most of these shots, if not all, go completely unnoticed by the viewer – which is a good thing in this industry. According to Legato, "A good track is invisible to any audience. A bad track is very visible. When you have a good track, you don't even realize it's a shot anymore. Now you just judge the quality of the entertainment value of that particular piece of film."
"The work that's on screen indirectly benefits from the speed that one gets from using mocha. Yes, it does a great job tracking, but even more so it does a great job tracking to lessen the amount of time it takes, giving you more and more opportunities to perfect a shot and make it totally appropriate for the movie. On a creative note, anything that gives you more iterations because it takes less time to deliver the same results makes the work on screen better. mocha delivers solutions to problems you didn't even know existed."
Brainstorm has also found a friend in mocha, saying, "We don't keep mocha in the shade – it's a tool we use quite a lot. When we need to track areas that are flexible, moving – especially on other shows when we have to treat faces or organic surfaces that move and expand – simple tracking points or a 3D tracker will not work. But mocha can solve these tracking issues with ease. That's the power mocha delivers for us."
For more information: Robert Legato at the Internet Movie Database Brainstorm Digital: http://www.brainstorm-digital.com/