Jack Tunnicliffe of Java Post understands the inherent difficulties at just about every level of production. Having worked in television as a cameraman, director, producer, and ultimately parlaying all of his production and post production experiences into the company he founded, Jack brings a solve-anything approach to his work. In fact, Java Post is often praised by its clients as a shop that "takes the pain out of production!"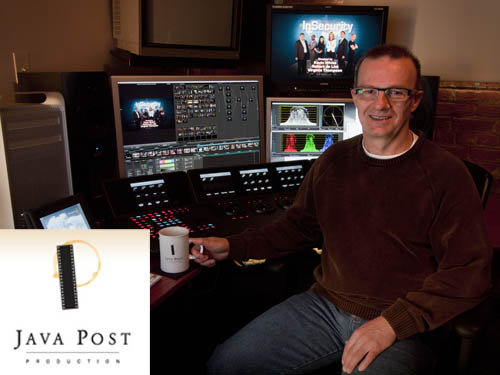 Java Post, a leading editing and visual effects facilities based in western Canada, boasts an impressive roster of post-production credits that includes hit Canadian TV sitcoms such as Corner Gas and InSecurity, and the critically acclaimed film, Hungry Hills featured at the 2009 Toronto International Film Festival.
Jack has been described as a technical wizard with an artist's eye and a philosophy of surrounding himself with the very best, whether it's cutting edge technology or the people behind the controls.  From post-production coordinators to the editors, animators and visual FX artists, Java Post prides itself in the fact that every one of his team brings their special brand of craft, creativity, experience and enthusiasm to every project.
Imagineer Systems / Boris FX spoke with Jack recently where he shared some details on the workflow issues he's facing now on the popular CBC Network television series, InSecurity. "Right now, we're working on a television series that's turned out to be a real workhorse show for us – it's the kind of show that's laden with invisible VFX, the sort that could take hours and hours of tedious work. I'm talking about clean up. This show in particular has a tremendous amount of clean up, tons of boom shadows and reflections throughout each scene that need to be removed. And, since the show is constantly growing, there are now twice as many people, shadows and lines that need to be removed from each scene." "Adobe After Effects is a big part of our workflow here at Java, we do a lot of our VFX and clean up in After Effects.
The problem arises when we're removing a shadow that's either on corrugated surface, or worse, goes off screen and then comes back in to the shot. There's just not enough information for point trackers to handle that. That's where Mocha Pro comes in for us. Mocha AE actually comes bundled with After Effects, so that's a tremendous bonus. It's so well integrated. Whenever we have a shot that needs Planar Tracking, we simply drag the clip from AE and drop it into Mocha Pro and it opens instantly.
We ended up migrating from Mocha AE to full Mocha Pro as we found all the added capabilities, such as the remove tool, to be invaluable to us. Just that one feature had a huge impact on my workflow and saved tons of time on clean up projects." "In one example (see before and after clip), we had a shadow before, to the right of the couple approaching. As you can see it, runs across the curb and then across a highly textured ground surface, so not the easiest thing to remove. In the second shot of the couple the shadow moves right up the brick wall at an angle, again not an easy fix."
"With Mocha Pro, I tracked the background planes beneath the shadow on the ground and then tracked the planes of the brick wall, then tracked the actual shadow and used the remove tool. The results were quite outstanding and would have taken considerably longer using traditional methods of removal, clean plates and painting."
"Another scene in the series is shot inside an office with big windows throughout the background. The directors wanted a view from the windows of downtown Ottawa – every show we needed this view. So we turned to greenscreen and Mocha Pro.  Mocha Pro is so powerful, all we had to do was track in the windows and now those windows are locked to this virtual outside world. For more realism, we even threw in some 3D animated birds to fly by the windows occasionally.
Again, an example of massive time savings that allows us to focus on the creative and getting the job done quickly, on time and on budget!" "When a tool saves you the kind of time like Mocha Pro does for our team, it pays for itself in a matter of days. And especially for After Effects users, when you discover the power of Mocha AE and the value you get from migrating to full mocha Pro, you wonder why you didn't do it sooner! And who knows, my love for coffee also inspired my company name and logo. Clearly Mocha Pro just fits right in! Coincidence?"