Comedy Central's newest television show, Review, is a captivating send up of the traditional weekly review show. Starring Andy Daly ("Eastbound & Down") as Forrest MacNeil, this show features a critic who does not review shows or movies. Instead, he reviews intense experiences of life itself – from drug addiction to dating a celebrity.
A glimpse of the show's premiere reveals that the "set" is the experience itself. The show is a behind-the-scenes look at Daly's actions as he is being filmed reviewing any given life experience. So while his character, Forrest MacNeil, reviews the experience of shoplifting, for example, viewers see Forrest steal from a grocery store as well as the cameramen following him. Later, viewers also see Forrest in the studio as he shares direct-to-camera commentary and provides a star rating.
The show involves a lot of camera movement, including some abrupt camera motions as compared to that of a typical television show. Unlike other shows, the camera itself is a character in Review. Chris Heuer, who worked in post-production for the show, was called in to do rotoscoping, compositing and tracking the backgrounds for Review.According to Heuer, a 20-year industry veteran, this type of set definitely presented extra challenges. In order to overcome some of the set-specific obstacles, Heuer used mocha Pro by Imagineer Systems.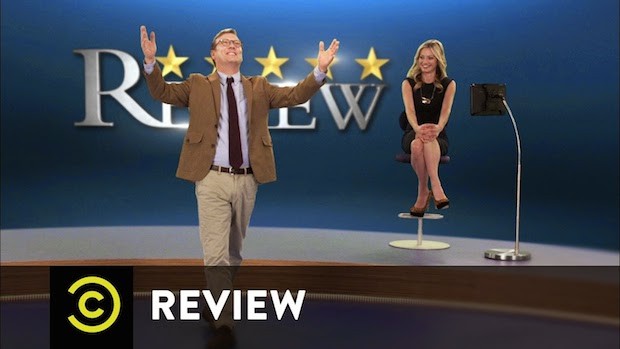 In the past, Heuer has worked as an editor in the commercial production departments of television stations and cable companies. In 2006, he started his own freelance company called Freefall FX, LLC, which focuses on visual effects compositing for broadcast, web and independent films. "Tracking and roto, to me, is the backbone of all visual effects, so I have focused a lot of my time on learning and improving in those areas. I used mocha years ago to convert the movie, "Nosferatu" — the original vampire/Dracula movie — from 2D to 3D," Heuer says of his history with the program.
On using mocha Pro for Review, Heuer states: "Keep in mind, the entire 30-minute show is not in the studio, but almost every shot I worked on had at least some camera movement. Subtle 're-framing' camera tilts, zooming and semi-shaky pans, big sweeping jib moves and 'unscripted' whip pans … there is a whole lot to track as chaos erupts in the studio. In the chaotic scenes, the fast camera motion appeared to have blurred out any trackable features, but surprisingly, mocha held on and gave me some of my better tracks. There is no way I could have completed this many shots with any other tracking program."
Heuer says that, in particular, mocha Pro's planar tracking — which allows compositing artists to lock onto specific pixel details in a shot in order to add special effects or remove objects — was one of the software's most useful features. Traditionally, this type of work is assisted by placing physical tracking markers on set, but with mocha Pro, as long as there is some texture, trackers are unnecessary.
The software was also able to integrate seamlessly with other programs that the larger post-production team used. "The compositing was done in Adobe After Effects CC. I, in Wilmington on the East Coast, handled the tracking, keying and background insertion. A designer in Los Angeles added and animated all of the screens and graphics that appear behind (and sometimes in front of) the actors. He used the tracking data so his elements stuck to the shot in his composites as well. mocha Pro integrates seamlessly with After Effects and made our workflow very smooth. The designer, Dylan, and I each had the raw footage locally, so we were able to exchange files and data quickly online."
The efficiency of the program was especially important considering Heuer was the only person doing this type of post-production work for the show, and the deadline for getting everything done was extremely tight — approximately one episode per week. "I handled all of the tracking, while the other effects artist inserted screens and graphics after I tracked the scene. We had a lot of shots to track within a very short deadline; without mocha and its speed and accuracy, this wouldn't have been possible" Heuer says. "There were nine episodes in the first season. We had a week to work on each episode. Efficiency was very important. I used mocha for any roto that was necessary and to garbage matte out mics and set pieces. Again, the time saved by not hand animating a garbage mask is huge."
He adds, "There was some lens distortion on wide shots, so the lens module was also a lifesaver at times." In one instance, Heuer worked with a scene where a virtual monitor was added into the shot's background, but when the shot panned out, the monitor slipped off screen. "Because of some lens distortion, as the monitor got closer to the edge of the screen it appeared to stop 'sticking' as well," Heuer explains. "I was able to quickly calculate the lens distortion and send him a distorted corner pin to use in place of just linking to the transform data. I can't think of another tool that could do this, at least not as efficiently. Camera tracking programs don't do so well with tripod (nodal) pans."
Heuer doesn't only use mocha Pro for complicated projects like Review. He also uses it for his everyday work, which typically involves commercials or short ads. In these instances, he uses the program specifically for repair work, visual effects, rotoscoping or object removal. In fact, it is this "everyday use" that paved the way for his work on Review. "I'm very comfortable with it and indeed love to use it; knowing all that made it possible for me to work on the show," Heuer says. As a nod to Imagineer Systems as a whole, Heuer says that he loves the company's support of their clients.
"I have been using mocha since its beta test days and motor before that. The product is unparalleled, and Imagineer Systems is 100-percent supportive of their clients. I have received amazing support from them since the beginning, and that hasn't changed one bit as their client base has grown."
At the end of the day, mocha Pro got the job done, but it also ended up enabling Heuer's creative process and pushing his work to the next level. "I would not have been able to accept this job if I didn't have all the confidence in the world in this product. I remember the days before mocha when I had to be on set to make sure there were enough tracking markers visible in the shot at all times." Heuer admits that with the software, he is almost "too confident" about not having markers. "It's opened a world of creative possibilities I wouldn't have even considered before."