The creative duo behind the YouTube channel MysteryGuitarMan, known to its 2.7 million subscribers for their quirky music, stop motion, and visual effects videos, are now first-time feature-length filmmakers. Joe Penna and Ryan Morrison's film Arctic, starring Mads Mikkelsen, made a buzzy debut as an Official Selection to the Cannes Film Festival last summer with Director Penna nominated for a Golden Camera award. Now it's playing in select theaters nationwide.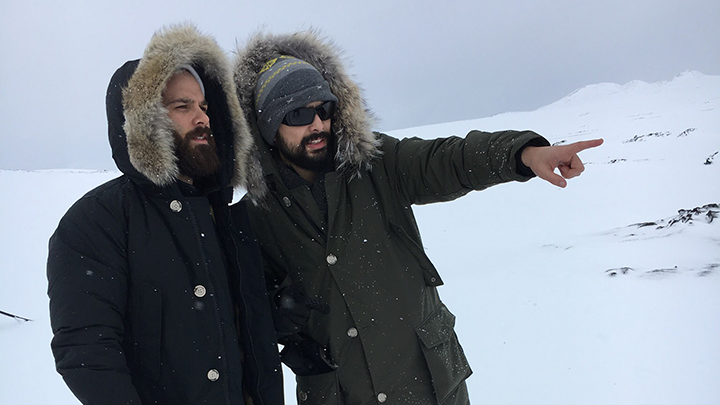 (On the set of Arctic, L-R: Ryan Morrison and Joe Penna)
The 98-minute film weaves a harrowing and often silent solo survival tale following Overgård (Mikkelsen) after his plane crashes in the Arctic. "Joe and I wanted to tell a story that was relatable regardless of culture or language. Survival fit the bill," says Morrison, co-writer, editor, and VFX artist. "Then one day Joe found a photo online of what a terraformed Mars could look like one day. We got to work writing a survival tale that took place in this environment and sent it off to our agents. They loved the story but recommended we check out the trailer for an upcoming film that might step on our toes a bit. It was Ridley Scott's The Martian with Matt Damon (a book we both loved). After a good laugh, we shifted the story over to the Arctic and the rest is history."
"Screening at Cannes was surreal. This is a world-renowned festival and I was so proud and honored to be part of it," continues Morrison. "I was also very nervous to screen in front of 2,300 people considering no one outside of the production had seen the movie yet. We got a standing ovation from a notoriously difficult crowd and I'll never forget that feeling."
Shooting in the Arctic wilderness was awe-inspiring and technically difficult due to the nature of the climate itself. Both Morrison and Penna, long-time users of Mocha Pro and Mocha AE (bundled inside After Effects), knew they could rely on Mocha's planar tracking and masking tools to help fix it in post. "I know this probably sounds like an ad, but Mocha Pro integrates seamlessly with my After Effects and Premiere Pro workflow," states Morrison. "As an editor/VFX artist, I have a better insight to the potential of shots in a sequence. For example, a shot might have a great performance, but a hard camera shake at the end. It's good to know I have tools like Mocha to save a take or elevate the intentions. I love Mocha AE and Mocha Pro. It's a tool I use on every project."
Morrison not only edited the film as they went along during production, but he also mocked up many shots in the director's cut. He was eventually brought on board by partner Post Mango, a VFX house well-known for their indie track record, to help finish the film since he had already completed so many effects. Altogether, nearly 300 shots used Mocha to help create invisible, seamless VFX including removing the crew's footprint and snowmobile tracks from the footage (referred to by Morrison as "the scourge of the image"), face tracking for make-up effects, tons of roto work, set extension, weather effects, sky replacements, and more.
"Mocha was an enormous part of our daily workflow in post. We used it so many different ways," comments Morrison. "Roto is easier when you can take it in chunks and track certain areas. The stabilization module is so customizable that you can really refine the strength of the tool. It gave us the opportunity to enhance our intentions with the way this film was shot. Sometimes there would be a moment where we didn't have time to hop on a tripod and we'd have to go handheld. This might be a moment where Penna wanted the camera to be stationary. Mocha made a lot of these decisions possible in post."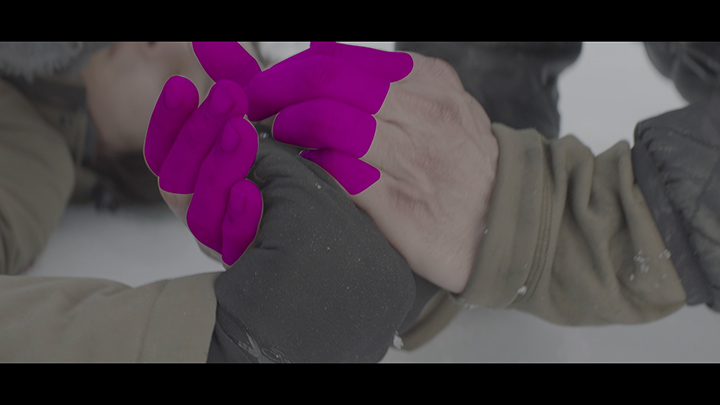 (Arctic, Before: Rotoscoped fingers using Mocha Pro)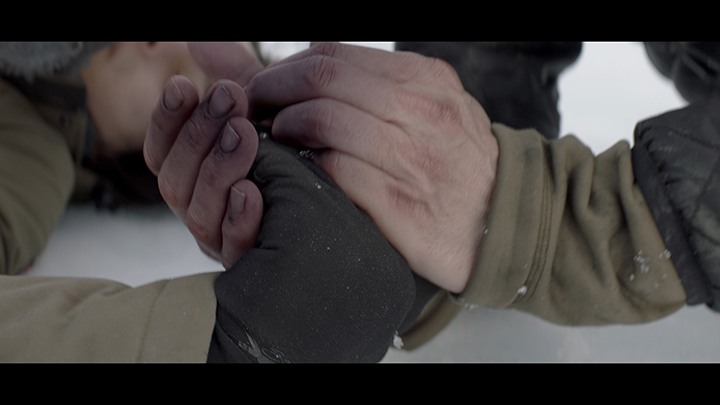 (Artic, After: Digital make-up effects applied to fingers)
Having access to Mocha also helped the team tell a better story after moving a few scenes and shots around in the edit, which led to continuity issues with a cut on Mikkelsen's face. The cut was either in the scene when it shouldn't have been or vice versa. "Mocha made is possible (and easy) to track his face and place or remove the cut whenever we needed it," notes Morrison. "It may seem like a small and simple feat, but this opened up a ton of narrative opportunities."
His advice for aspiring filmmakers? "Make stuff. Write the idea you've been toying with in your head," ends Morrison. "Shoot the script you're working on. Ideas are no good sitting in your head or on the page."
Learn more about MysteryGuitarMan
See where Arctic is playing near you
Download a free trial of Mocha Pro