Freddie Wong is many things in a new era of digital entertainment; he's a filmmaker, actor, competitive gamer and an incredibly talented visual effects artist. He's also the co-founder of RocketJump, a Burbank, CA-based studio famous for its YouTube channel Freddie W (RocketJump), which now boasts over 6.7 million subscribers.
Freddie has spent the past 3 years growing his channel into a network of content, including RocketJump, Node Studios and Corridor Digital - pioneering the Internet's must-see digital programming, with web series like Video Game High School and LAN Party.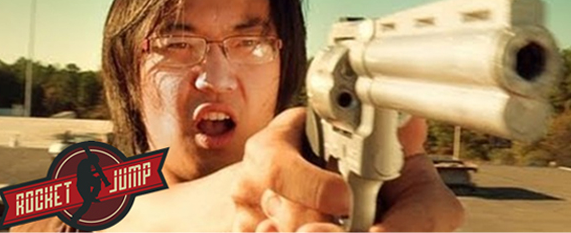 "We're all about short, VFX- and action-driven online programming," said Freddie. "We work with incredible speed and efficiency and with incredibly tight budgets.  So a tight workflow is critical to enabling our pace and volume of work."
Freddie and his crew are big fans of mocha Pro from Imagineer and have been using it since it came on the scene – starting with the Adobe bundled mocha AE, and now mocha Pro. "mocha's integration with After Effects is so easy," continued Freddie. "The translation of the data from mocha to After Effects is instant, which is amazing. Often a point tracker just can't cut it, and the 3D tracker just takes forever, so we turn to mocha time and again."
Mary Poplin, west coast product specialist from Imagineer Systems, sat down and spoke with Freddie and talked about RocketJump, how they work, and shared a lot of his thoughts on workflow, software integration and the importance of quality and efficiency.
Check out their conversation here:
"It's surprising how often we break into the tool chest for mocha, mainly because of its speed, its versatility. You get to the point where you just shouldn't be doing more work than you have to. If you're doing more than you should, then you're just wasting time in post production. Time is everything."
Video Game High School – Episode 1
"For RocketJump, mocha is incredibly helpful – it allows us to be quick and turn around the kind of volume and quality work that we do on a week by week basis."