"Life gave me fantastic opportunities and I'm so thankful for that." Meet Jorge Pereira OK, São Paulo native, Flame Artist, and VFX Supervisor. At 16, Pereira was working as an office admin at VZ- Virtual Zóoiuns, a small 3D company when it merged with Casablanca, a well-known post production company. Suddenly he was introduced to Autodesk Flame. Two years later, he was lucky enough to get the opportunity to work as a compositing assistant, and it changed his life.
After years of working tirelessly in Brazil's booming post-production industry at Tribbo Post, Pereira became a freelancer to spend more time with his kids. Now he owns a home office studio with his own Flame, assistants working on Flares, and burn nodes to lighten the load — and he's relishing teaching and watching his kids grow-up. His day-to-day starts in the early afternoon with tasks like pitching new jobs, coaching up his assistants, and catching up on emails. The creative work happens after dark, mostly from 6pm-4am. "I love what I do. Contributing to the director's vision is one of the things I find most exciting," says Pereira. "Sapphire brings cinematography to my comps. I've used it on 90% of my projects. The other 10% was because we didn't have it."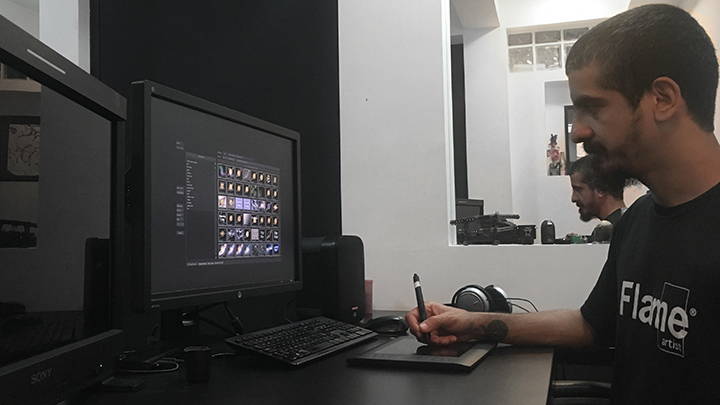 Pereira has worked on nearly 600 spots including projects for Bossa Nova Films, O2 Filmes, Chevrolet, Pepsi, Gatorade, McDonalds, and the David Lynch Foundation. His creative process is always the same: focus on the intention and message of the scene; watch the scene on loop to figure out how to connect emotionally with the audience, surprise the audience with added production value; research elements and create boards; and finally experiment to achieve the best possible result. "I find it important to separate the steps of 'what to do' from 'how to do' it so I try not to deprive myself," comments Pereira. "I organize my workflow in a way that has multiple options to choose from."
"Sapphire's simplicity in use makes work pleasurable and stimulates the creative process," continues Pereira. "My advice is even if you have a specific native effect in Flame or Matchbox, try Sapphire, and choose the best for your scene." Among Pereira's most-used effects are S_Flare, S_Glow, and S_RackDefocus for their realistic looks and behaviors; S_Deband to clean skin and eliminate imperfections (a creative use of the effect); S_Distort for digital reflection in live action (water, glass, etc.); S_Shake for organic camera movement ("It is no doubt my favorite camera shake."); and the Sapphire Warps for fisheye and bubble looks.
Pereira's unique and all-encompassing skill set — compositing, VFX, image integration, coloring, and animation — allows him to tackle a wide range of projects. "I have clients that hire me for specific scenes and clients that want me to collaborate from the beginning to the end of the projects," ends Pereira. "Owning a small studio allows me to have the opportunity to do everything. This is personally very rewarding, and Sapphire has and always will be  part of it."
Download a free trial of Sapphire