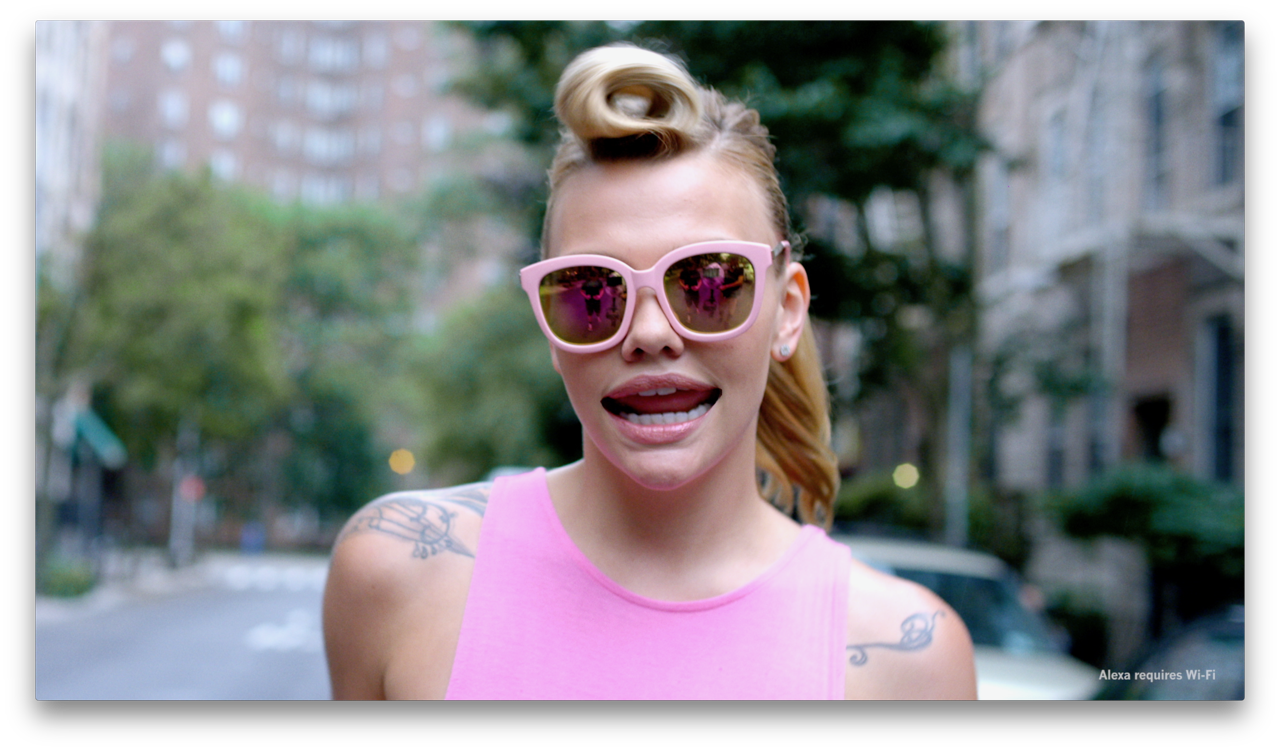 Bonfire Labs is a diverse family of flexible and curious designers, thinkers, makers, and technologists with a bias towards action and a commitment to craftsmanship. Their capabilities include Brand Development, Content Strategy, Live Action Production, Motion Design, Visual Effects and Animation. Based in San Francisco, their client list includes tech innovators such as Adobe, AirBNB, Dropbox, GoPro, Salesforce, Twitter, and Google. For that reason, this 22-person content creation studio needs not just the right can-do attitude but the right tools to be able to execute quickly on ideas and projects that are often flexible and evolving.
"I'm a problem-solver. I love figuring out how to tackle a project both technically and creatively," says Phil Spitler, Creative Lead and Creative Technologist. "Adobe After Effects is the main tool we use for motion graphics and visual effects. It gives us the speed and creative freedom to iterate our motion graphics spots with the precision and flexibility to make visual effects work pixel perfect."
To round out its toolkit, Bonfire also uses Mocha Pro inside After Effects. "Mocha is essential for us. We do a lot of screen replacements (on devices for clients such as Fitbit or Salesforce), and of course, in-depth roto masking — and without Mocha, it would be a nightmare," continues Spitler. "The Adobe After Effects integration is amazing. It just works."
Bonfire recently wrapped a music video style spot for Logitech's new product — Ultimate Ears — portable bluetooth speakers integrated with Amazon Alexa that ups your listening game whenever, wherever. Like the design of the speaker, itself, the 30-second spot is slick.
The team, who completed both production (NYC) and post (San Francisco) on the project, spent a significant amount of time on research & development to figure out the best creative and technical approach for shooting and adding the VFX. Over 50 shots of people singing and dancing had to be rotoscoped. "During R&D we tried many things including doing full 3D tracks of the heads and facial features," notes Spitler. "When we got the data back into After Effects it didn't really give us the flexibility we wanted. We determined that Mocha was going to give us the most creative control for the effects we wanted to achieve. Without it, we would have had to rethink our creative."
Every shot needed roto work regardless of how subtle the mouth distortion was. Spitler and his team used Mocha to track and roto the mouth and other relevant facial features from each of the talent in every shot. To complete the desired looks, Mocha's spline data was exported into After Effects to apply various distortion techniques.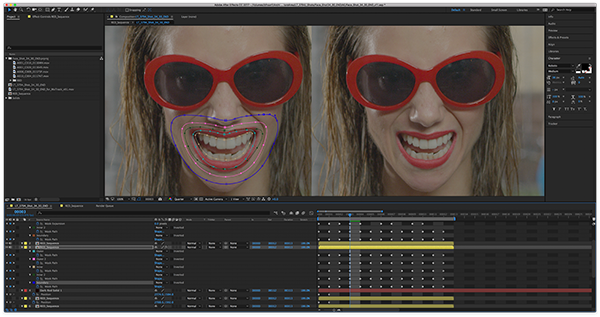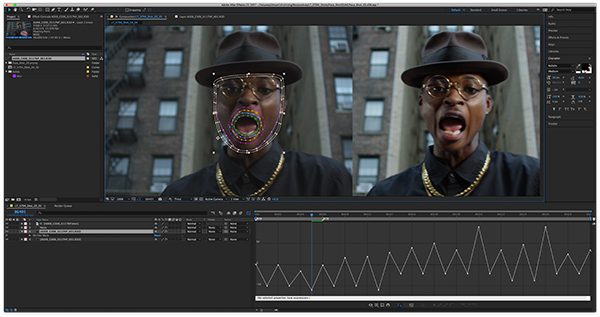 "Mocha's speed and efficiency is amazing," ends Spitler. "Without it, I have no idea how we would have even done this video."
Download a free trial of Mocha Pro.