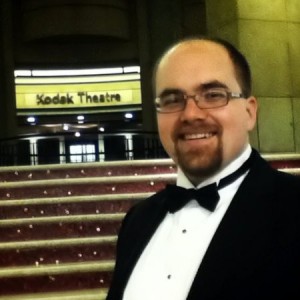 Ben Campanaro is a visual effects compositor who has collaborated on some of the industry's most stunning visual effects on projects recognized with Academy Awards, Emmy Awards and a number of VES Awards. Ben got his start in computer graphics in the early 90s and landed his first gig after graduating college as the on-set visual effects assistant for Charmed on the Paramount lot. He's had an impressive career since as a visual effects artist and compositor with shops like Eden FX, and more recently with Pixomondo. You've seen his work on feature films like Spring Breakers, Mission: Impossible – Ghost Protocol, The Social Network, Get Smart, and The Hunger Games and on hugely popular broadcast series such as Game of Thrones, Lost, Sleepy Hollow and DaVinci's Demons, and on projects like Spielberg's Terra Nova.
Ben is also a long-time Imagineer Systems customer and mocha enthusiast. He shared with us some of his thoughts on mocha, and talked about some of his most challenging projects. Talking about the breadth of high profile work he's been doing the past couple of years, Ben comments:
"It's hard to think about on shots on which I haven't used mocha. Over the years it's become a natural extension of my workflow in After Effects. Even for just non-planar 2D transform tracks, I'll usually hop over to mocha first before trying the After Effects tracker. Even simple tasks like stabilizing gate weave in mocha frees me up to go work on other parts of the comp in After Effects."
"I usually feel like I can quickly scrub through a plate and have a good idea where I'll need to set up any layer masks or give mocha a little help, then just minimize the window and let it work in the background."
"Of course the corner pin data is really the biggest help for shots that I wouldn't have ever wanted to touch if mocha didn't exist. I most often find myself exporting just the raw 4 point data from mocha, and applying the values with simple expressions before making any Adjust Track tweaks in the compositing app. Whenever I've taught informal training sessions for other artists in the studio, the workflow they're most often blow away by is the concept of using the AE standard "CC Power Pin" effect with the reverse checkbox clicked. While Nuke and Fusion are based on having fantastic match moves and perfectly lined up geometry to project onto, those ideal situations almost never happen with the short deadlines we have on all TV and many films. With every corner pin track working like a projected card in 3D space, mocha straddles nicely between multiple comp techniques and proves to be a much more direct way of focusing on just what the shot needs to get finished."
Ben also shared his demo reel with us, and talked about a few sequences from it where he felt mocha really made the difference. To learn more about Ben and his work, please visit http://www.bencampanaro.com
Ben Campanaro Compositing Demo Reel 2013 from Ben Campanaro on Vimeo.
0:06 Time Warner / HBO – Enjoy Better – Dragon
"There were 5 plates used in this shot: background, alternate background clean plate, blue screen performance with puppet, blue screen alternate take for clean plate, clean desk. I used mocha to 2D stabilize the film gate weave from each so they could be frankenstein-split screened together. I used mocha for a few areas of roto on her shoulders and arms that wouldn't key from spill. I also used mocha to corner pin-stabilize a few dozen frames of her arm that needed to be spline warped to add some interaction between her and the dragon."
0:28 Spring Breakers
"In this sequence, I planar tracked the 6 actors in the foreground and corner-pin stabilized each. Depending on the amount of perspective shift, each actor had 1 to 5 different clean plates that I spline-warped and morphed between to replace them in the shot wherever the crew shadows moved across. I think I had just 2 work days from start to finish on this one; mocha was a huge timesaver. I used this same technique for a similar shot where a teen uses a baby doll for a bong. There were a handful of other shots that, without mocha, the movie may not have been delivered in time."
0:46 Terra Nova
"In this sequence, I had to use mocha to stabilize the background to tile and re-frame the shot. I then corner-pin tracked the strange tree to the screen-right of the dinosaur to replace it with a painted sharper version (that and a few obscured trees showed how shallow the depth of field was on the plate; it wouldn't match with the intended composition). I also mocha stabilized some elements of drool that were shot in-house and used on this and many of our dinosaur shots throughout the series."
1:11 – Get Smart
While the floor was replaced with a Boujou camera projection, I used mocha throughout the rest of the shot for a ton of 2D patches to replace all of the furniture, walls, and even the actors' heads when they were obscured by the wires. Using mocha was a lot more straight forward and gave quicker results than if I had tried placing cards/projection geometry throughout.
1:18 – Get Smart
Corner pin tracked much of the dress for replacement, and exported some 2D tracks to help with replacing her arms
1:24 – The Social Network
mocha stabilizing both clips for the splitscreen to have the Lone Ranger play twins.
mocha roto for the areas of overlap like the hand with the phone
1:37 Lost
mocha roto for the window frames, 2D tracks for background and glass replacement
1:45 Fringe
mocha roto for the window frames, 2D tracks for background and glass replacement
1:46 – Mission: Impossible Ghost Protocol
mocha roto for the window frames and some foreground roto, 2Dtracks for background and glass replacement
1:54 – Ghost Whisperer
Corner pin track for placement of painted element, also exported 2d tracks to link with expressions to the noise for the spec highlights, roto of hand.
2:07 – Mindy Project
mocha cornerpin track for the tv burn-in once we're through the glass (I'm cutting the shot short in the reel)
2:14 – Da Vinci's Demons
The majority of the shot was a 3D camera and projection on simple geometry, but I used mocha for the closer wall on the far left at the beginning of the shot where the 3D solve was drifting from incorrect lens distortion.
2:29 – Mission: Impossible Ghost Protocol
Mocha roto for the window frames. Mocha tracks for portions of Tom's Hair, the OTS foreground actor, and headrest that needed to be patched with replacements when keying and color correction weren't enough to battle the spill and changing light conditions in the footage
2:42 – Grimm
The CG matchmoves on these were never quite perfect, so each went through a pass of corner pin stabilizing to help with warping the cg to lineup with the practical. mocha roto for the holdouts of the jacket collar and hairline. 2D mocha tracks and roto were used to color correct and alter the actors' hands and neck
2:45 – Grimm Turtles
These had the same mocha corner pin stabilize for cg alignment fixes. mocha roto for the collars. Several sections of hair had to be replaced with still patches, placed with mocha corner pin tracks. The mom's collarbone was stabilized as well for a painted necklace replacement to go back over the CG.
2:54 – Community
Corner pin track for the 1st shot to place the edges of the hole, and track mattes to reveal the background behind.
2D mocha tracks and roto for the 2D olive and his fingers, and the hand hole.